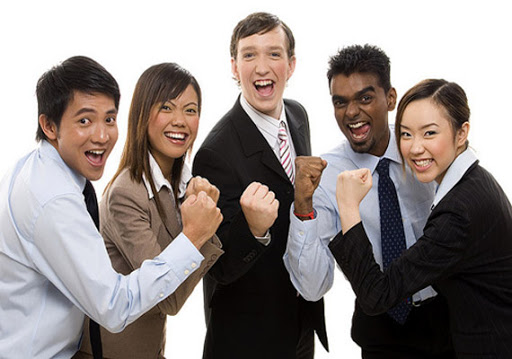 akinfemiade
November 27, 2016
0 Comment
Business growth and success is not all encompass with the ability of the company to coordinate its resources optimally and the ability to make viable predictions concerning the future of the company, or even engaging experts in making strategic decisions and policies for the internal and external operations of the firm.

Team playing is a very crucial brand in any organisation, you might wonder why I tagged it as a brand; well, it's a brand because it has the creative ability to sell the company to the public and a dynamic resource for enhancing growth.
As an employer/ HOD;
You are conceived in a team as the pilot of the plane, it's a wonderful flight to achieving greatness and meeting targeted mark, but there are certain positive attitudes and skills that are expected of you and they are;
" people tend to move, when you move"
# Ability to transfer vision.
"If you are not a slave of the vision, you don't possess the power to put others under its influence"
# Active communication with feedback.
" Inactive communication will always bring back echo's instead of a crystal clear sound"
# You are just a privileged coordinator of talents and skills and therefore the need to possess a strong leadership spirit and becoming a strategic leader is of great necessity
# Timed delivery of goals and vision.
# positive tactics
" don't let the driving force of the company run down, strategically create platforms where skills, talents, and potentials are used positively as a renewable energy towards driving growth" I tag this as #TheCompany'sEdge over its competitors.
"Positive energy are like strong sound waves in the air, that causes an haptic feedback of excitement towards achieving a set goal"

As an employee;
You are conceived to be the flight crew member , you are the very first brand of the company that the public can easily meet and interact with, before the product or service is introduced, you have the energy and potential to transfer onto the public the vision of the company, what it stands for, those important values that it seeks to deliver, you might as well call yourself the unique selling point of the company; but all these can be hindered when you lost track of the destination to which you are heading to and thus this following positive attitudes and skills are also needed of you;
# Focus
# Enthusiastic
"Being Excited at what you do, don't forget you are a unique selling point."
# A contributive mentality should be your greatest asset with loads of ideas.
"your contributions are those tiny dots that will later connect to something even bigger and greater."
"if you can share an idea or thought, it definitely means you have the potential of being creative."
"You are called into the team, because you have the potential of being a relevant key player towards the delivery of the company's goal and vision".

In conclusion, great team players are always great achievers irrespective of the context to which they find themselves in.
Akinfemi Ade™
Image Credit: Kbic